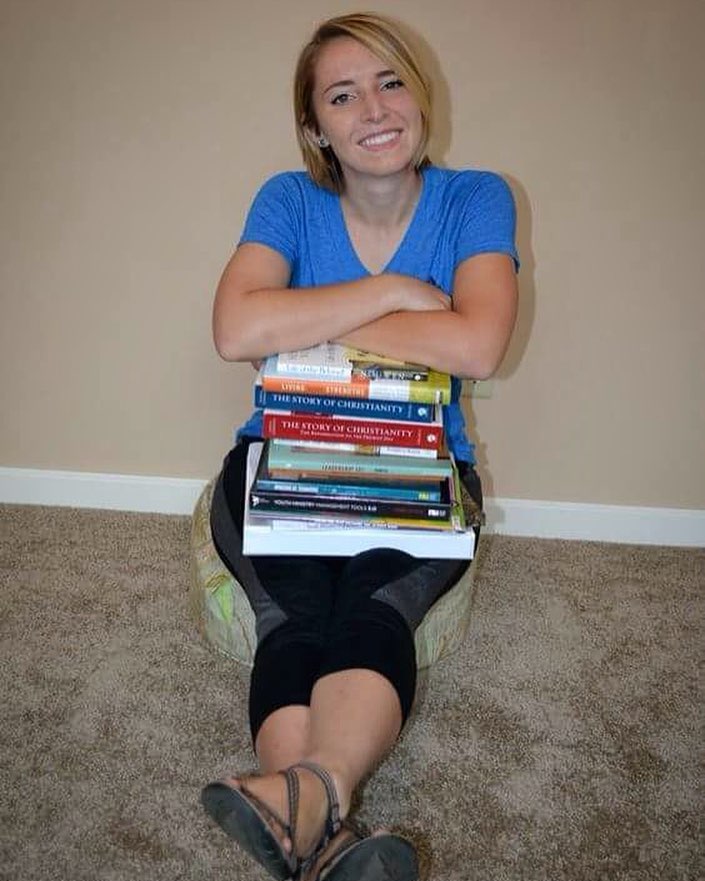 Sharing a book with someone is a view into their heart. It is a vulnerable act between friends.
-Michaela Drain, UCO Wesley Director
The current UCO Wesley Director, Michaela Drain, loves to read! You will always find her with a book on her somewhere. Her favorite thing to do is swap book suggestions. Below are some of the books she most often suggests to church leaders and students alike. Once you read them, Michaela would love to discuss them with you. Feel free to stop by the Wesley with a book to discuss or suggest!
Book List (Organized by Topic)
Leadership
Motivating the Middle by TJ Sullivan**

How to Lead When You Are Not In Charge by Clay Scroggins**

Canoeing the Mountains: Christian Leadership in Uncharted Territories by Tom Bolsinger

The Practices of Adaptive Leadership by Ronald Heifetz

Moral Leadership for a Divided Age by David Gushee and Colin Holtz

Good to Great by James C Collins

Lean-In by Sheryl Sandberg

Quiet: The Power of Introverts in a World that can't stop talking by Susan Cain

Dare to Lead by Brene Brown

Gen Z Goes to College by Corey Seemiller**
Church Leadership
Sustainable Youth Ministry by Mark Devries

Living Your Strengths by Winseman, Clifton, and Liesveld**

Heart of the Artist by Rory Noland

Beyond the Screen: Youth Ministry for the Connected but Alone Generation by Andrew Zirschky

Leading from Second Chair by Bonem and Patterson

The Servant as Leader by Greenleaf

Youth Worker's Guide to Helping Teens in Crisis by Van Pelt and Hancock

The Thinker's Guide to God by Vardy and Arliss

Spiritual Disciplines by Calhoun

When Religion Becomes Lethal by Charles Kimball

Revisiting Relational Youth Ministry by Andrew Root

The Social Principles

The Book of Discipline
All Around Good Books
Still Christian: Following Jesus Out of American Evangelism by Dr. David Gushee

Changing Our Mind by David Gushee, Brian McClaren, Phyllis Tickle, and Matthew Vines

Present Over Perfect by Shauna Niequest

Love Does by Bob Goff*

Searching for Sunday by Rachel Evans Held

Mere Christianity by CS Lewis

When the Church Gets It Wrong by Adam Hamilton

Love Wins by Rob Bell

What Everyone Needs to Know About Islam by Esposito

A Call to Action by Jimmy Carter

Half the Sky by Nicholas D. Kristof

Life of the Beloved by Henry Nouwen

Do Hard Things by Alex and Brett Harris

Not a Fan by Kyle Idleman
*Books we will read in Bible Study in Spring 2018
**UCO Wesley Student Council must reads